USB-C Condenser Mic with 1/4″ Instrument Input and 4 Switchable Polar Patterns
The Mackie EM-CHROMIUM is a studio-grade desktop mic plus audio interface with music production in mind. It combines a premium Onyx-equipped large-diaphragm condenser microphone with a 1/4″ input and hands-on mixer. This makes the EM-CHROMIUM an all-in one solution for singer-songwriters who want to lay down professional demos at home and online guitar instructors who need their instrument to come across loud and clear over streaming platforms. It's a true single-cable production solution for home recording and streaming. Four switchable polar patterns equip the Mackie EM-CHROMIUM microphone for hyper-realistic ensemble recording and natural-sounding speech and vocal pickup. Plug in an instrument, and you've got a clean front end for interfacing with the latest software amp and stomp emulators. You can also connect a phone or tablet with an 1/8″ output for sharing playback material or jamming along to backing tracks. Class Compliant USB-C connectivity makes the EM-CHROMIUM a plug-and-play operation without installing any drivers. Furthermore, you get dedicated mic level and headphone output controls right on the mic. Looking to streamline your home or production studio? The Mackie EM-CHROMIUM EleMent Series desktop mic makes an elegant solution.
Related Videos: EM-CHROMIUM USB Condenser Microphone with 2-channel Mixer
Four selectable polar patterns
The versatile Mackie EM-CHROMIUM supplies four switchable polar patterns to handle a wide range of recording needs. Singing and speaking? You can't beat the classic cardioid pattern. Tracking two singers at once? Bi-directional has the sound and rejection you're after. Looking to capture music and audio just as it sounds in the room? The Omni and Stereo patterns give you natural pickup to reproduce everything your ears hear. Once you really master everything your Mackie EM-CHROMIUM has to offer, this mic is destined to become command central for your home studio and streaming setup.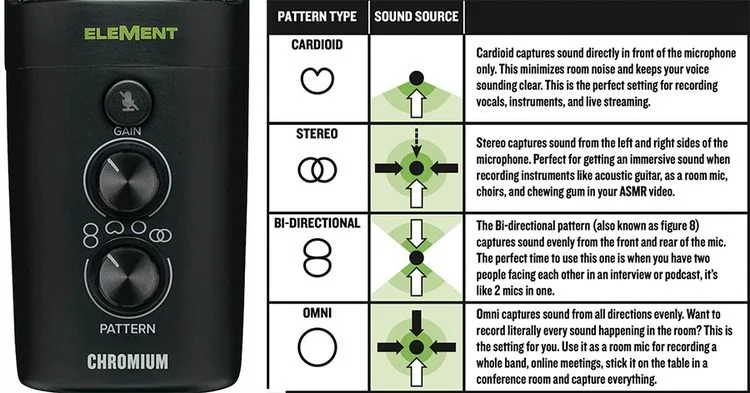 Hands-on mic and instrument controls
Part of what makes the Mackie EleMent EM-CHROMIUM mic such an elegant solution for recording and steaming are its integrated mixer controls. Here you can carve out a mic/instrument mix without delving into external software editors. Mackie's renowned onboard Onyx preamp circuitry gives you a clean, low-noise front end for crafting professional demos, whatever style of music you deal in.
Mackie EM-CHROMIUM EleMent Series USB-C Condenser Microphone Features:
Premium desktop studio mic + USB audio interface
Pro sound in a streamlined form factor
Ideal for singer-songwriters and online instructors
Integrated 1/4″ instrument and 1/8″ aux connections
Hands-on mixer format — adjust mic, instrument, headphone, and aux levels directly from the stand base
Class compliant USB-C connection delivers fast, dependable performance
4 switchable polar patterns: Stereo, Cardioid, Bi-directional, Omni
Onyx preamp circuitry supplies big tone, low noise, and high dynamic range
Mute/privacy switch
Captures audio in film-quality 16-bit/48kHz
USB-C cable also included